How to do the maintenance of the ice shaver
During normal ice crusher factory operation, be careful not to drop hard objects into the shaved ice tray, otherwise the blade and shaved ice tray will be damaged.
If you find that the belt and the motor output wheel or the belt and the pulley are slipping after a period of use, the belt is worn out. You only need to replace a belt of the same model and install it.
If you find that the ice chip is not ideal when the ice chip is produced, you can repeatedly adjust the ice blade gap until it is ideal. Under normal conditions, the ice blade and the ice chip are parallel. If you find that there are ice chips and broken ice at the same time, it means that the ice blade and the ice chip are not parallel. There are two situations when it is not parallel to the shaved ice mouth: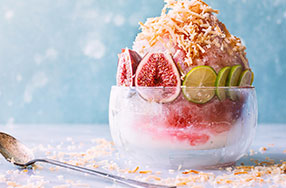 1. Part A produces ice flowers. Part B and C produce broken ice particles; 2. (As shown in Figure 6-2) Part A has no ice blossoms, part B produces ice blossoms, and part C produces broken ice particles. In the above two cases, the effect of flower production is poor, and its parallelism must be adjusted.
Adjustment method: There are three fastening screws on the knife base at the bottom of the shaved ice tray where the blade is connected, which can be used to adjust the parallelism between the blade and the knife edge. First loosen the middle screw with a wrench, then loosen the other two screws, adjust the parallelism, tighten the screws, and finally adjust the ice blade gap appropriately.
Never rinse the interior directly with water.
If the pulley locking screw becomes loose, stop the machine immediately, and then start the machine after tightening the screw.