Which is better, air-cooled or water-cooled ice machine, the ice making speed is fast, environmental factors and economic costs should be considered when choosing the condensing method of the ice machine. This article introduces the difference between air-cooled and water-cooled ice machines and Pros and cons.
The refrigerant enters the evaporator, and the pressure drops, changing from high-pressure gas to low-pressure gas. This process needs to absorb heat, so the surface temperature of the evaporator is very low, and then through the fan, ice maker machine wholesale cold air can be blown out. The condenser is the high pressure and high temperature generated by the compressor The refrigerant is cooled to high pressure and low temperature. The refrigerator vaporizes through the capillary tube and goes to the evaporator to evaporate. In this type of condenser, the heat released by the refrigerant will be taken away by the air. The air can be naturally convective or forced to flow by a fan. This type of condenser is used in a Freon refrigeration device. Convenient and inconvenient, so the water consumption of this type of condenser is very small. Condenser is the best choice for areas with dry air, poor water quality, low water temperature, and low water volume; this type of condenser can be divided into evaporative and shower type according to its structure.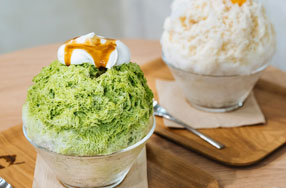 A high-temperature and high-pressure refrigerant gas enters the heat transfer tube of the condenser through the inlet above the condenser. The cooling pump pumps the cooling water out of the water storage tank of the cooling tower, and then enters the condenser through the inlet on the lower right side of the condenser. The tube pass, through the refrigerant outside the copper tube of the condenser for heat exchange, the temperature rises, from the outlet on the lower right side of the condenser into the condenser outlet, and then into the inlet pipe of the cooling tower through the outlet pipe, and then through the sprinkler The outlet of the water pipe is evenly sprinkled into the filler, and the fan is sucked by the fan to exchange heat with the water in the filler, so that the water temperature drops, and then enters the water storage tank through the water storage tank, and is to be recycled.
In the range of the condenser shell, the high-temperature and high-pressure refrigerant gas exchanges heat with the cooling water flowing in the pipeline, and the temperature is reduced, and it is condensed into liquid. The heat rejection system of the refrigeration unit first exchanges heat with water (heat exchange that occurs during condensation), and then exchanges air with water (heat exchange that occurs in the cooling tower).